Get Dental Crowns in Anchorage and Wasilla, AK
Do you have a fractured, decaying, or missing tooth? Is a damaged tooth preventing you from sharing your smile? Would you like to restore a problem area in your smile and prevent further damage? A dental crown or dental bridge may be the perfect solution!
---
What is a Dental Crown?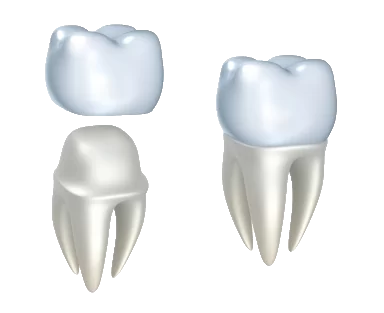 A dental crown is a porcelain, tooth-shaped cap that is used to protect or restore a damaged or decaying tooth. Tooth crowns are custom shaped and sized for each individual patient. Crowns are then placed directly over a fractured tooth. A porcelain crown allows a dentist to preserve the original tooth root and avoid the need for a tooth extraction.
At Alaska Premier Dental Group, each porcelain crown is made with the most up-to-date technology available. Our highly-skilled Anchorage dentists and staff make certain that each dental crown perfectly imitates the color, shape and translucence of your original tooth. Nobody will even notice that your tooth has been replaced by a tooth crown!
---
When is a Dental Crown Needed?
Your tooth is fractured, damaged, discolored or decaying
You have a missing tooth and require a dental implant
A root canal procedure has left little of the original tooth
You need to hold a dental bridge in place
---
The Porcelain Crown Procedure
The porcelain crown process is simple and can usually be completed in just a few easy dental visits. During your first appointment, one of our Anchorage dentists will take a mold of your original tooth. They will then craft a beautiful porcelain crown that will look and feel completely natural. Depending on the circumstances, the doctor may place a temporary crown on your tooth while you wait for your custom crown to be completed. At your next appointment, your permanent porcelain crown will be carefully placed into your smile.
---
What are Dental Bridges?
Are you missing one or more teeth? Dental bridges are a great way to restore the appearance and functionality of your smile. The dental bridge is a tooth-shaped device that is attached between two dental crowns on each side–literally "bridging" the gap created by one or more missing teeth. Many patients prefer dental bridges to dental implants because they are non-invasive and often removable. At Alaska Premier Dental Group, our dental bridges are individually tailored to fit perfectly into each patient's mouth. They look and feel completely natural, and will allow you to share your smile with confidence!
---
Contact Us for Dental Crowns and Bridges in Anchorage or Wasilla!
If you are interested in learning more about your dental crown or dental bridge options, contact our office in Anchorage or Wasilla today!