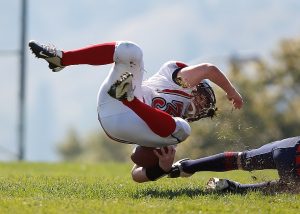 Do you have a son or daughter that plays youth sports? Soccer, baseball, football, and basketball can be very dangerous for your child's teeth. Alaska Premier Dental Group can help protect them with a custom mouth guard.
Football is a violent contact sport, yet there is a relatively low rate of tooth injuries that occur in football as compared to other contact sports. Why? Football players are required to wear a mouth guard and a helmet.
Inexpensive athletic dental mouth guards are worth their weight in gold!
If your child participates in a contact sport and does not currently wear a mouth guard, we recommend that you pick one up and make sure they wear it. They are available at most  athletic supply stores. Even better is one of our custom-made athletic mouth guards that deliver even better protection than the one-size-fits-all brands.
Schedule an appointment with Alaska Premier Dental Group, and we'll fit your young athlete with a custom mouth guard. We also provide family dentistry. Make an appointment today.