June brings the second installment of our Tracey Pilch Silent Auction at Alaska Premier Dental Group! Many of our Doctors and Staff have already hit the rivers and oceans seeking fresh Alaskan Salmon.  Fittingly Salmon artwork will be the focus for our second Silent Auction. If you didn't catch the  news last month I will summarize this exciting community fundraiser:
I would like to first start by reminding everyone that 100% of the money we raise with this artwork stays in our community and helps existing patients get the treatment they need and want but cannot afford. Tracey Pilch is one of our many talented patients.  Several months ago, Tracey approached us with an altruistic idea. She proposed donating several pieces of art for the sole purpose of raising money for people here in our local community. Tracey shared with me a personal story of not always being able to afford the dental treatment she needed and wanted:
"I very well understand the need for dentistry and it's value. I also understand it can be unaffordable for some people… I think that the ability to smile is so closely connected to our wellness and I feel strongly about total wellness… Feeling good comes through our smile. I think everyone should be able to smile."
We will be featuring several different art pieces a month and will be reserving all of the funds raised to help existing patients get the treatment they need/want but are not able to afford.
I did not consider my home complete until I had artwork celebrating salmon. Don't pass up this chance.
Bidding starts at $100, see our Facebook Event to bid online or come in to the following locations to see specific Tracey Pilch Originals.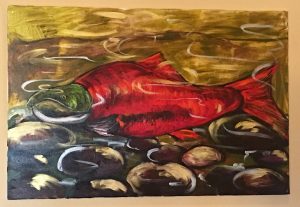 Located upstairs in our Anchorage location. This piece is already been bid on at $150!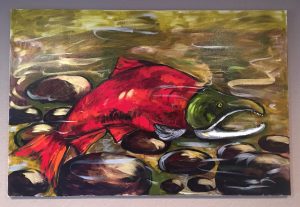 Located downstairs in our Anchorage location. This piece has also already been bid on at $100!